With the slew of Code Editors available on the web ( including Free and Premium ) sometimes having to choose between which is the right one can be a somewhat tough decision.
When it comes to editing HTML- and CSS-code choosing a simple plain text-editor is sufficient, and the rest depends on one's skills and creativity. However, when it involves more complex and advanced editing features which can effectively support your coding – debugging and testing, one may consider something more powerful.
Most of the present day modern editors provide developers with syntax highlighting, diff, macros, plugins, code-snippets, preview-options and an integrated FTP-management tool.
There are other editors which have an even greater level of performance and offer a complete integrated development environment with numerous features and functions – however, there are only a few of them which are really worth using.
Nearly every developer is familiar with most source code editors – free , premium, simple and even the more advanced ones ( which are mostly premium and tend to cost a pretty penny ) tend to pack user friendly features. Getting into the groove of a text-editor and tweaking all of the settings to fit your criteria and specifications is pretty much equivalent to getting behind the wheel of a new automobile – therefore, taking it for a test drive before actually buying it is a wise decision.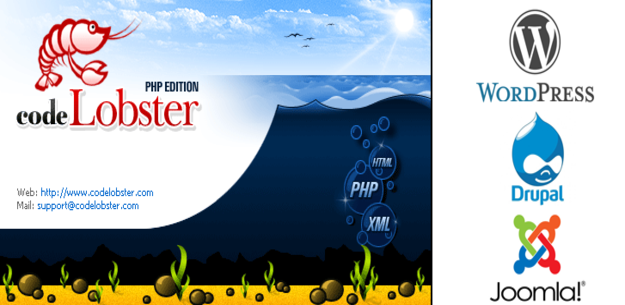 Thus, in consideration of all of the above mentioned here, we would like to introduce our audience to one of the latest Code Source Editors making waves and breaking new ground on the web recently which some may not be aware of.
Code Lobster source code editor is an advanced feature text editor yet simplistic in form and function. It possesses all of the premium qualities and features found in those high-priced editors for FREE.
Allow us to list some of Code Lobster's many features, possibilities and prime advantages for your consideration.
Highlight all code depending on type, including variations of code which is thus supported. Thus- the area of HTML will be highlighted as HTML, PHP as PHP, and Javascript as Javascript within the same file.
The choice of color schemes, including popular IDEs.
Powerful autocompletion for HTML, PHP, CSS and Javascript, including HTML5 and CSS3. For PHP the structure of the project is fully recognized, and the complete list of methods falls out within the proper places.
HTML/CSS inspector on the type of Firebug, which allows the user to easily correlate the selected elements of the page with code and proper style.
Context help on all supported languages defined. By pressing F1 key the page containing a detailed description for current tag, attribute or function will be opened.
PHP debugger. PHP debugger allows the execution of PHP scripts incrementally, displaying the values of all variables on every line.
SQL manager allows the production of all necessary actions with a database – such as: to add, delete, edit a structure and records in tables, to export data, execute SQL queries.
Highlighting and autocompletion works for SQL files also.
Support of FTP allows working straight with a remote server and the performance of all necessary changes with files.
Portable option allowing the use of the editor without the preliminary installation.
Other useful utilities include: pair highlighting, possibility of blocks selection, collapsing, tooltips, navigation on descriptions of functions and included files at withholding of the key of CTRL, viewing of structure of files and project, preview in a browser, book-marks, and all other standard possibilities for working with code.
Also : there are special plugins for working with CMS platforms such as-
Drupal and Joomla
PHP frameworks: CakePHP, CodeIgniter, Symfony, Yii
JavaScript library: JQuery
WordPress– blogging engine
Smarty– template engine
These are just some of the great built in features of the Code Lobster Source Editor which are outlined here- but in order to truly discover all of the possibilities which CodeLobster is packed with – you will simply have to Test-Drive it for yourself and let us know what your opinion is, and what you found to be more useful and distinct about it in comparison to the code editor you are presently using- and the best part of it is that its FREE!
Enjoy !
More Information About CodeLobster
Developer
Codelobster Software
Web Site
Language
English, Russian, German, Spanish, French, Portuguese
Supported OS
Windows XP, Windows Vista, Windows 7, Windows 8