A Theme framework can be considered as, A "drop-in" code library that is used to facilitate development of a Theme or A stand-alone base/starter Theme that is intended either to be forked into another Theme, or else to be used as a Parent Theme template.
If you are a wordpress developer or designer and dont have time to learn and build a fully responsive wordpress themes, then probably WordPress Theme Frameworks might help you out. There are myriad of free wordpress theme frameworks are available over Internet that are free and you can easily have up and running within couple of hours.
In this article we have rounded up 25 Free WordPress Theme Frameworks and Starter Themes for wordpress hardcore programmers. There are also a number of outstanding premium frameworks are available, but in this article we'll focus on the free ones. The following frameworks despite being free, turn out to be handy and highly valuable.
If you know few other free wordpress theme frameworks please let us know by posting a comment in comment section. Enjoy !!
1. Skelton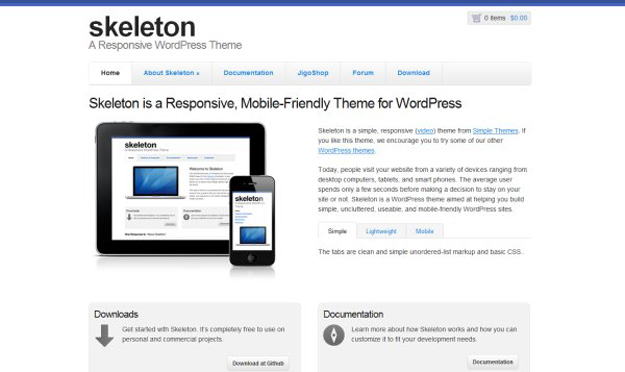 Skeleton is a simple, responsive WordPress theme based on the Skeleton Boilerplate. It has several useful shortcodes, such as tabs, toggles, cross-browser CSS3 buttons, and layout columns. It also includes a bbPress skin/stylesheet and sample child theme.
2. Reverie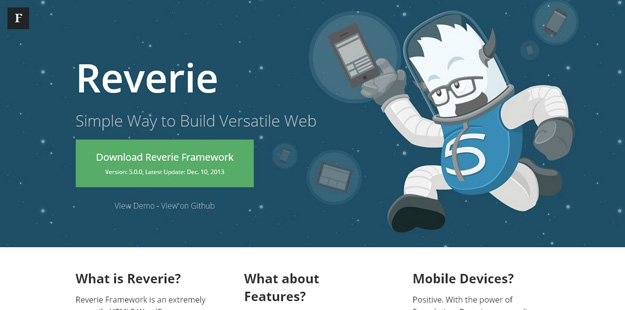 Reverie Framework is an extremely versatile HTML5 WordPress framework based on ZURB'sFoundation, a powerful tool for building prototypes on any kind of devices. Reverie Framework inherits all the cool features from Foundation, and packs with several other interesting features to optimize the experience for WordPress and HTML5. Including customized output for WordPress menus, caption and pagination.
3. Bones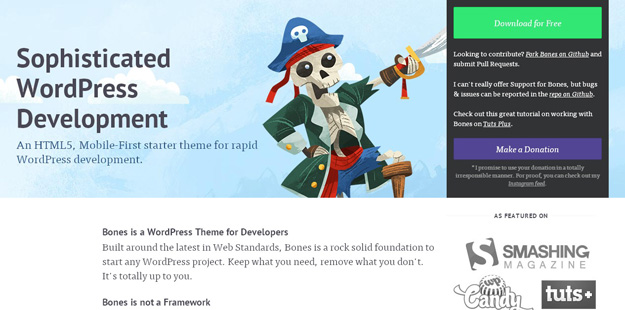 Bones is a WordPress Theme for Developers. Built around the latest in Web Standards, Bones is a rock solid foundation to start any WordPress project. Keep what you need, remove what you don't. It's totally up to you.
4. Roots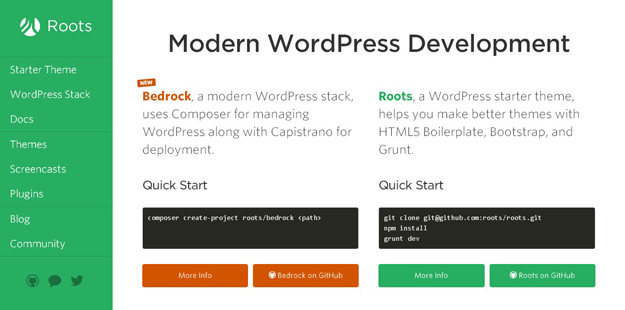 Roots is a simple and minimal code, responsive framework. Clean code and design, ideal WordPress responsive starter theme. Based on HTML5 boilerplate and Bootstrap from twitter.
5. Whiteboard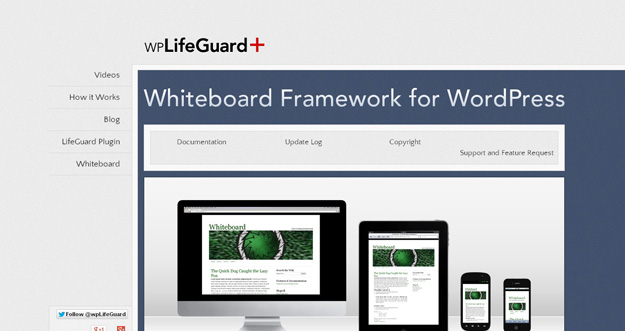 Whiteboard framework for WordPress was developed to speed up the development of WordPress themes. Whiteboard does so by eliminating the time spent on code common to all WordPress themes and includes non-intrusive code that improves the overall WordPress theme in many ways – including SEO, speed, usability, mobile support, and multi-lingual support.
6. Gantry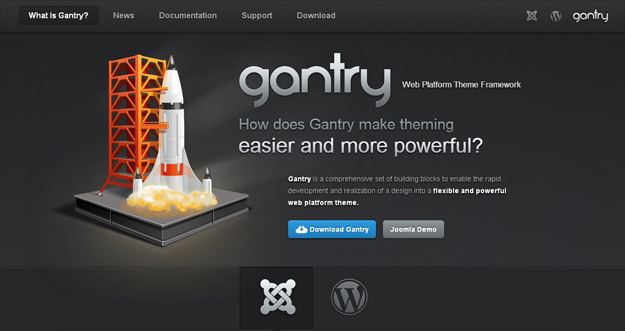 Gantry is a comprehensive set of building blocks to enable the rapid development and realization of a design into a flexible and powerful web platform theme..There are myriad of built-in features including the CSS and JS compression, speed-optimized codebase, several widgets and gizmos such as font-sizer, Google Analytics, to-top smooth slider, IE6 warning message, etc.
7. Presswork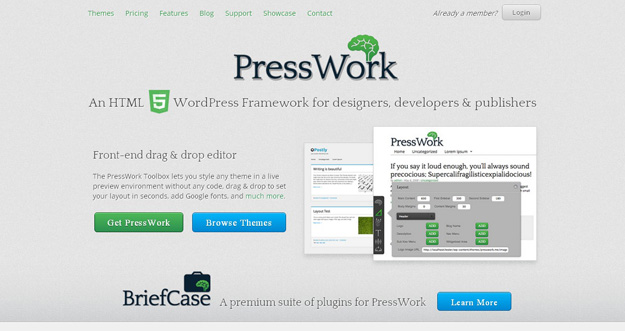 Presswork is an HTML5 wordpress framework for designers, developers and publishers. The PressWork Toolbox lets you style any theme in a live preview environment without any code, drag & drop to set your layout in seconds, add Google fonts, and much more.
8. Warp Framework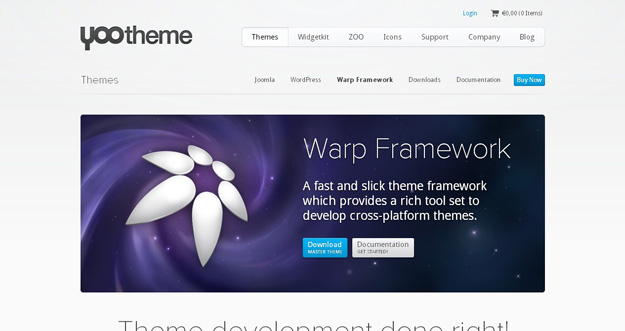 A fast and slick theme framework which provides a rich tool set to develop cross-platform (including Joomla and WordPress) themes.
9. Foundation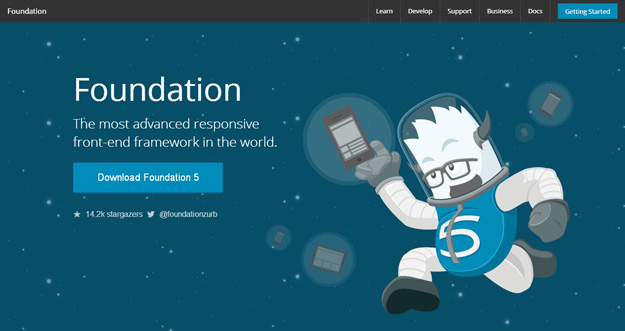 Foundation for WordPress is a starter theme based on Zurb's Foundation and HTML5 Boilerplate. It includes a slider that can be managed through WordPress, pagination, two sidebars, and more.
10. HTML5 Reset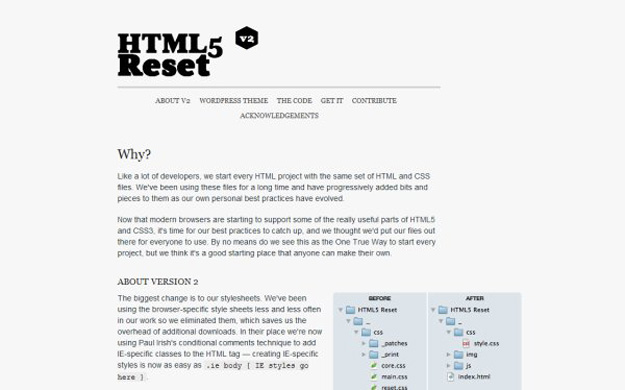 This blank theme focuses on making a solid HTML5 compatible starting point for WordPress theme development. It also has some additional features such as built-in analytics and starter CSS declarations for basic WP elements. It features semantic HTML5 markup, CSS for basic WordPress elements, a widget-ready sidebar, and more.
11. Hybrid Core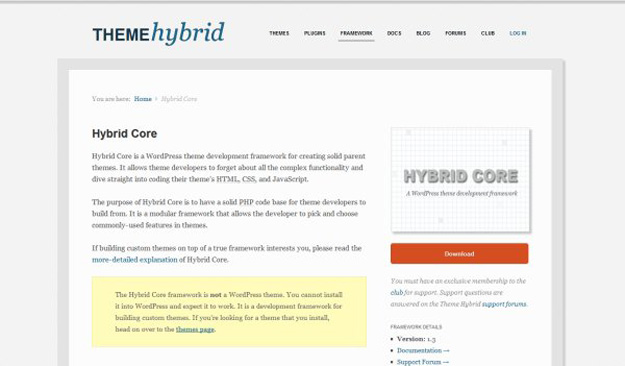 Hybrid Core is a WordPress theme development framework for creating solid parent themes. It allows theme developers to forget about all the complex functionality and dive straight into coding their theme's HTML, CSS, and JavaScript.
12. Thematic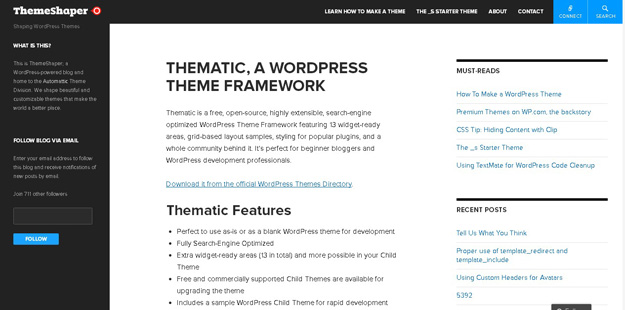 Thematic is a free, open-source, highly extensible, search-engine optimized WordPress Theme Framework featuring 13 widget-ready areas, grid-based layout samples, styling for popular plugins, and a whole community behind it. It's perfect for beginner bloggers and WordPress development professionals.
13. Upthemes Framework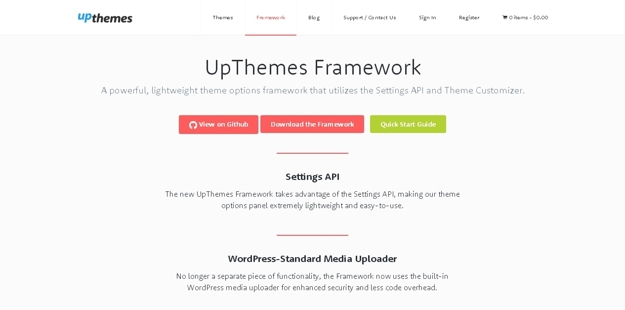 A powerful, lightweight theme options framework that utilizes the Settings API and Theme Customizer. The new UpThemes Framework takes advantage of the Settings API, making our theme options panel extremely lightweight and easy-to-use. No longer a separate piece of functionality, the Framework now uses the built-in WordPress media uploader for enhanced security and less code overhead.
14. Simon WP Framework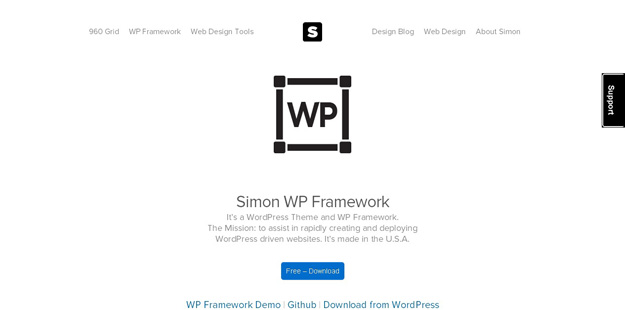 Simon WP framework is free simple to understand, flexible and clean wordpress framework. It is customized framework with widget areas both within the sidebar and the footer. As users adopt larger screens this WordPress Framework proves size does matter.
15. Carrington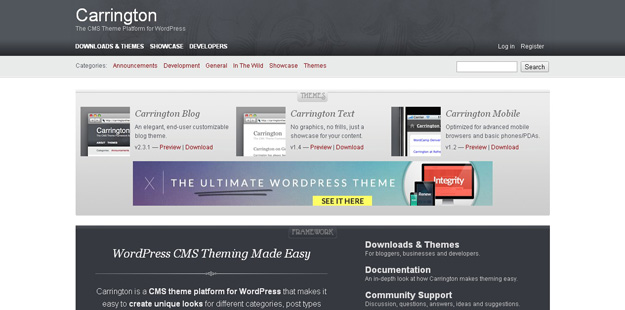 Carrington is a CMS theme platform for WordPress that makes it easy to create unique looks for different categories, post types and comments just by creating custom templates. By design, the Carrington framework is designed to be extremely flexible and modular. By building onto the already robust wordpress framework, Carrington Theme expands the possibilities of layout on all pages, including your homepage, posts page, category pages and showcases.
16. Wonderflux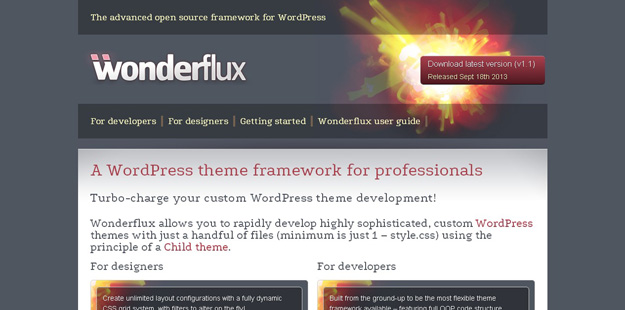 Wonderflux allows you to rapidly develop highly sophisticated, custom WordPress themes with just a handful of files (minimum is just 1 – style.css) using the principle of a Child theme.
17. HTML5 Shell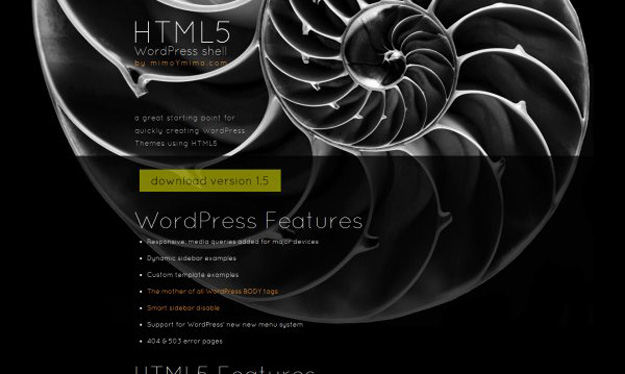 If you're looking to create WordPress themes using HTML5, the HTML5 WordPress Shell turned out to be great tool. It can be used to create responsive themes, with media queries included for major devices.
18. The Buffet Framework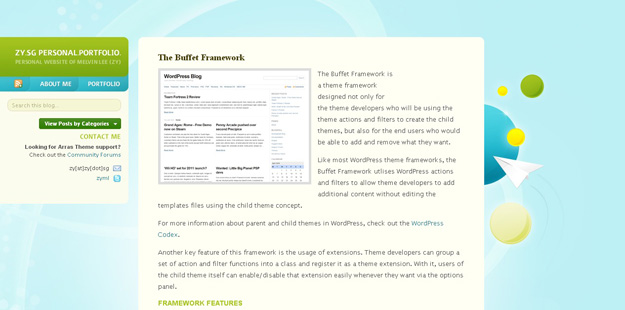 The Buffet Framework is a theme framework designed not only for the theme developers who will be using the theme actions and filters to create the child themes, but also for the end users who would be able to add and remove what they want.
19. Redux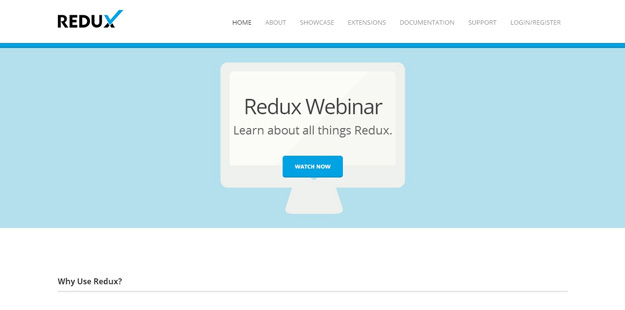 Redux is an advanced and stable WordPress options framework, built on top of the popular NHP, with an enhanced UI. It uses the "WordPress Settings API" and has multiple built-in filed types, validation, import/export functionality and much more.
20. Vafpress Framework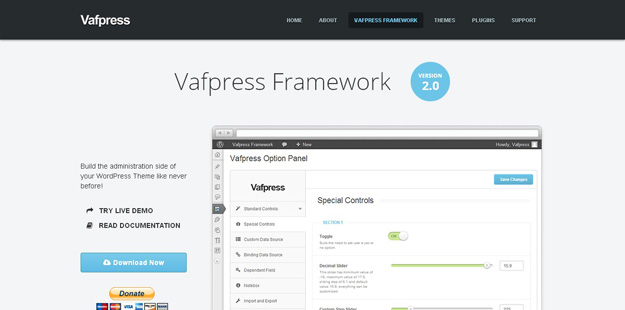 Vafpress Framework will take cares of the admin side complexity in building a WordPress theme or plugin, letting you to focus in building awesome looking and highly customizable theme by providing easy yet powerful way to build. The beauty of Vafpress Framework isn't just on how it looks, but on how it will change they way you build things, Vafpress Framework won't dictates everything about how an option should works, instead it provides developers a rich set of tools and customization to achieve the functionalities needed.
21. Ashford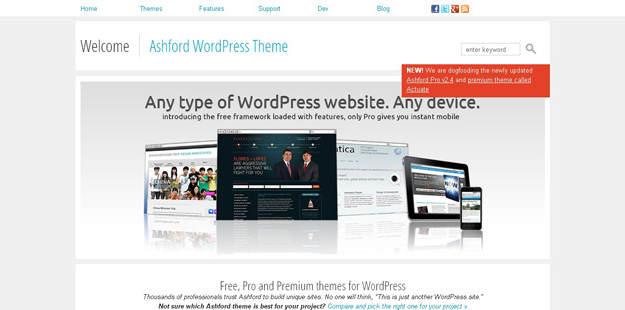 The Ashford CMS Framework is FREE. It is a "brilliant", "high-quality" parent theme for a personal or small web site. It has loads of features, but not all are enabled.
22. Required Themes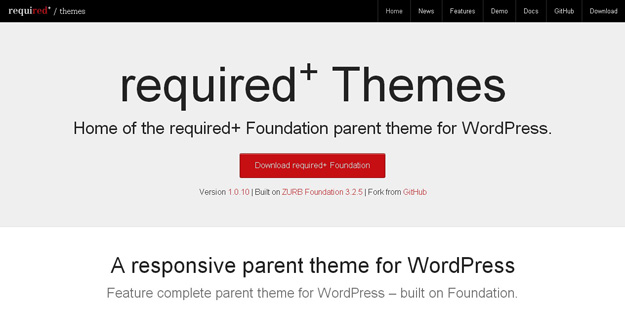 required+ Foundation is a responsive parent theme for WordPress based on the fantastic Foundation framework by ZURB. required+ Foundation makes it easy to build fantastic WordPress themes in no time. There are additional parts to required+ Foundation like the required+ Starter a sample child theme and someShortcode Plugins.
23. Bootstrap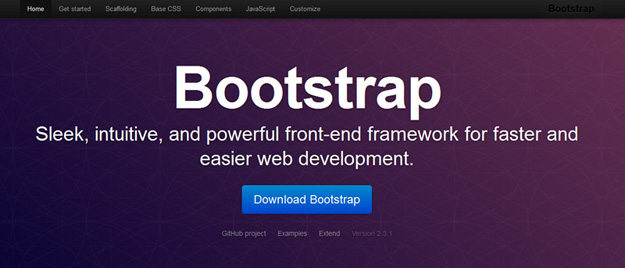 Bootstrap is another sleek, easy to use responsive framework for easier web development. It comes with many components to enhance the quality of your website.
24. SMOF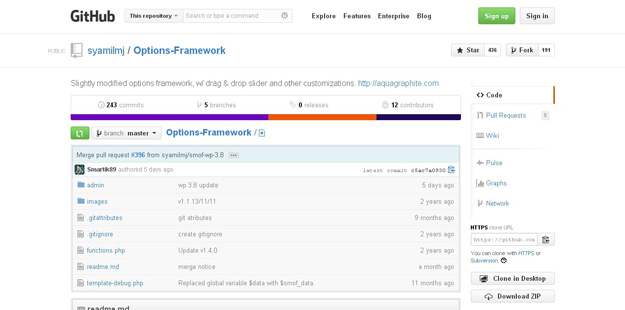 SMOF is a back-end framework for creating and managing options inside WordPress themes. It cuts off the process of developing your own admin framework and give you more time to actually focus on building your theme. SMOF comes bundled with plentiful of options that should serve most of the needs of any modern theme author.
25. Options Framework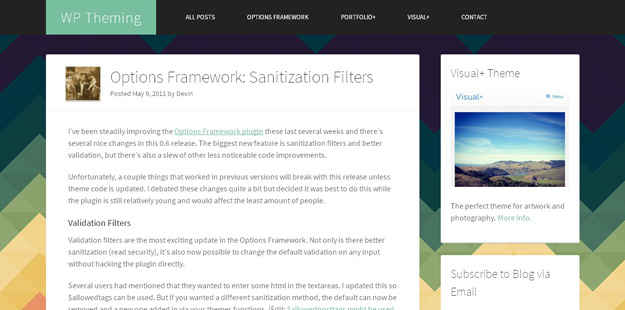 The Options Framework makes it easy to include an options panel in any WordPress theme. It was built so developers can concentrate on making the actual theme rather than spending time creating an options panel from scratch.